HealthNotes
Amino Acids Help Maintain Muscles After Knee Replacement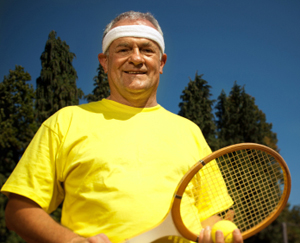 People taking amino acids lost significantly less thigh muscle mass after surgery
Taking an
amino acid
supplement before and after knee replacement surgery might help prevent some of the muscle loss that is a common side effect of the procedure, according to a study in the
Journal of Clinical Investigation
.
New knees
Total knee replacement surgery is a viable option for many people living with pain and disability from severe knee arthritis. The surgery has a high success rate, with most knee replacements lasting upwards of 20 years.
An important part of the rehabilitation process following total knee replacement is strengthening the leg muscles that support the knee joint. As with any period of immobilization, the lesser-used muscles quickly lose mass and strength. Loss of strength in the thigh muscles limits mobility and puts people at higher risk for falls. Therapies that minimize these losses have the potential to speed healing time and decrease complications after surgery.
Amino acids make muscles
Amino acids are the building blocks for protein synthesis in the body. In the first study of its kind, 28 people (average age 69 years) were given 20 grams of essential amino acids or placebo two times per day for one week before and two weeks after total knee replacement surgery. The participants' functional mobility and thigh muscle mass were assessed before surgery and two and six weeks postoperatively.
People in the placebo group lost significantly more thigh muscle mass (14% at two weeks and 18% at six weeks) than the amino acid group, who lost 3% after two and 6% after six weeks.
The amino acid group performed significantly better on most functional mobility tests, including timed stair climbing and up-and-go (a person's ability to sit in a chair, stand, walk a short distance, and return to a seated position) tests.
There was no difference in the six-minute walking distance between the groups.
"Our results clearly demonstrate that a reduction in muscle breakdown occurred in the amino acid group compared with the placebo group," said lead study author, Hans Dreyer. "These results offer preliminary evidence in support of a role for amino acid treatment and increased protein consumption to offset muscle loss and functional mobility impairments following total knee replacement."
Get back to living faster
Knee replacement surgery may help people with significant damage in one or both knees resume healthy activities that osteoarthritis is interfering with, such as low-impact sports like golfing, swimming, and biking.
To heal faster after surgery, try these tips:
Stay active. Your doctor will prescribe physical therapy to help you recover, often starting on the day of surgery. Continuous passive motion machines (a specialized therapeutic device) allow you to gradually increase the range of motion in the joint and enhance circulation to the area, speeding healing time and return to normal function.
Time your protein intake. Taking an amino acid supplement or having a high-protein snack within one hour of physical therapy or other exercise may lead to greater muscle gains.
Think about a supplement. Several nutrients, including vitamin C, glutamine, zinc, and turmeric may decrease inflammation, help prevent infections, and promote healing after surgery.
(J Clin Invest 2013;123:4654–66)
Kimberly Beauchamp, ND, received her doctoral degree from Bastyr University, the nation's premier academic institution for science-based natural medicine. She co-founded South County Naturopaths in Wakefield, RI, where she practiced whole family care with an emphasis on nutritional counseling, herbal medicine, detoxification, and food allergy identification and treatment. Her blog, Eat Happy, helps take the drama out of healthy eating with real food recipes and nutrition news that you can use. Dr. Beauchamp is a regular contributor to Healthnotes Newswire.